Shrimp Tortilla Towers
Ingredients
3 10-inch soft tortilla shells
1 cup chopped Florida parsley
1/2 cup chopped black olives
1/2 cup chopped green olives
1/2 cup chopped Florida green onions
1/4 cup olive oil
1 teaspoon minced garlic
2 cups chopped lettuce hearts
1 1/2 pounds of large Florida Shrimp, cooked with tails on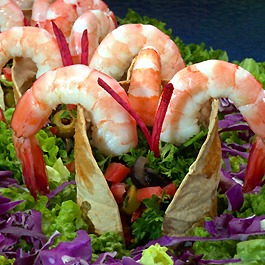 Preparation
Cut tortilla shells in half. Then cut 1/2 inch off of the rounded side of the half shell. Roll each half shell around an oven-proof glass or tin cup and secure with string. Bake at 300° F until the shells are firm and will hold their shape. Remove from oven and let cool. Cut string away from shells and slide shells off the cup; set aside. Combine parsley, olives, onions, olive oil and garlic; mix well and chill. Place shells on individual serving plates and fill halfway with lettuce. Finish filling the shells with the parsley mixture. Arrange the cooked shrimp on the edge of the shells and serve with your favorite dressing.
Yield
6 servings
Per Serving
Calories 281, Calories from fat 135, Total fat 15g, Saturated fat 2g, Cholesterol 221mg, Total carbohydrate 11g, Protein 26g. Always Ask for Florida Shrimp! Florida wild-caught shrimp are 100% natural, have a superior sweet, distinct taste and are of premium quality. They are harvested in regulated areas that are free from pollution, have no added antibiotics and are a naturally renewable and sustainable resource.
Sweet, wild-caught shrimp are available fresh year-round and are an excellent source of high-quality protein. Naturally low in fat, carbohydrates and calories, wild-caught shrimp is an ideal choice for a low-carbohydrate diet and healthy lifestyle. It also is a source of omega-3 fatty acid, which medical research shows may reduce the risk of heart disease.